NEW HIGH-END AV SHOP OPENS IN REPENTIGNY, QC
https://www.wifihifi.ca/LatestNewsHeadlines/NewHigh-EndAVShopOpensinRepentigny,QC.html
Article published on WIFI-HIFI – by Christine Persaud
A new high-end audio/video store, Planete Haute-Fidelite, will officially open its doors to the public on Wednesday, November 21. Located in the heart of Repentigny, QC, the store offers a place for customers in the area to see, touch, and listen to high-end gear before taking it home.
Audio/video advisor and musician Christian Vézina is President and Owner of the small store, which measures just 850 square-feet in size, and is located on the main floor and main street, Notre-Dame, in Repentigny, about 45 minutes outside of downtown Montreal.
"There has never been a nice, high-end store nearby," says Vezina, "so customers have had no choice but to go to Montreal to get good advice and see a nice selection of high-end products."
Vezina has spent 25 years in the industry, 24 of which was as a manager at Radio St-Hubert in Montreal, and a year as a contract salesperson for Kebecson. After taking time off following the death of his mother, Vezina decided to follow a long-held dream and open up his own store.
He came across the location, a former art gallery, over the summer, and loved the area, and ample parking nearby. "There is good coffee, good music, good gear, and good vibes in this place," he enthuses. "The ambiance is fun and relaxing." So he decided to take on the new challenge. "Having my own store means that I can buy and sell what I am confident in, and from sales representatives that I trust and admire."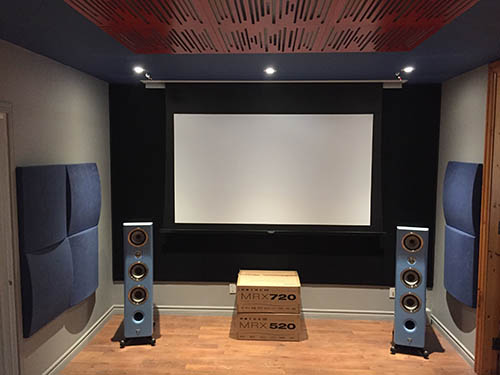 Vezina started from scratch, building a sound room, and has a team of subcontracted people for handling both private and commercial installations, including custom integration involving lines like RTI. He is the sole employee for now, but plans to hire someone in the near future.
The store sells a variety of products at "competitive prices," both new and second-hand, and ranging from small portable speakers to reference turntables, and valve and solid-state amplifiers. There are also headphones and vinyl records. "It is [a great] place to discuss, exchange, and purchase accessories to improve your equipment's performance," adds Vezina, citing products like wiring, power supplies, and acoustic panels.
While he admits that we live in an era where customers are often shopping online, Vezina cites what many have realized about the buying experience: that there's still value in having a place where customers can go experience products in person. "Hearing, touching, and seeing the product is a lot more fun than looking at a computer or iPad screen," he says. "There will always be room for a small retail store with cool people serving cool customers.
Passion," he adds, "is the key. "I am a musician myself. I am passionate about sound, about gear, about people, about music."
Planete Haute-Fidelite is a member of Clef de Sol, as well as FCEI, which allows Vezina to offer both competitive pricing on products and enjoy favourable rates on transport for getting inventory quickly. "I'm 10 minutes away from Plurison," he adds, "so I can get inventory fast, and I don't need to have everything in my store.
"I've always dreamed," adds Vezina, "of letting the people from my region benefit from my passion and my experience of the wonderful world of high-end audio. Welcome to your home, my friends from Lanaudiere and elsewhere!"